Upcoming Cohort: Sept 11 - Dec 8

Program overview

Leading your organization's marketing strategy can be a heavy burden to carry. This truly interactive leadership accelerator program enables you to learn, share, and leverage your practice with chief marketing leaders all over the world in an intimate, exclusive, and private environment.
From scaling teams, data, and budgets, to strategies, project management, and influence (and more!), over six enjoyably intense weeks, it covers all the quintessential areas needed to shine in a leadership role.



"The CMO Alliance is a one-of-a-kind for marketing leaders. A community of like-minded folk sharing challenges, advice and the wider content is an incredible resource that I call on weekly."
-Chris Sheen, Director of Social & Content at Celonis

Why choose the CMO Accelerator program?


Weekly live sessions

Engage in live, interactive sessions to learn from the real-life experience of market-leading instructors in live online sessions and interactive Q&As.

Templates & frameworks

Tried and tested ready-made templates created by CMOs to help you hit the ground running from day one.

Actionable coursework

Validate your learning and practice with a coursework portfolio and gain immediate feedback from our team of presenters.




Peer learning

Access a dedicated network of peers in your private accelerator alumni channel, to support you throughout your career.




Become a future leader

Upon completion, you'll have a chance to create bespoke courses, and articles, and take part in panel discussions to reach the 100s of CMOs in CMO Alliance.




Lifelong cohort

Continue to access the support network of our program directors and your peers, during and after the accelerator program ends.



Learn from marketing leaders like these:
(Plus many, many more)

Join a CMO Leadership Accelerator cohort that suits you. 👇
| Cohort | Start date | End date | Sign up |
| --- | --- | --- | --- |
| Q3 2023 | Monday, September 11 | Friday, December 8 | Reserve your seat |


This course is essential for you if:

💼 You want to become a marketing leader through a proven framework.
📚 You need actionable insights to hit the ground running in your new position as CMO.
🙋‍♂️ You're looking for a closed-networking group with peers to help support you in becoming a leader.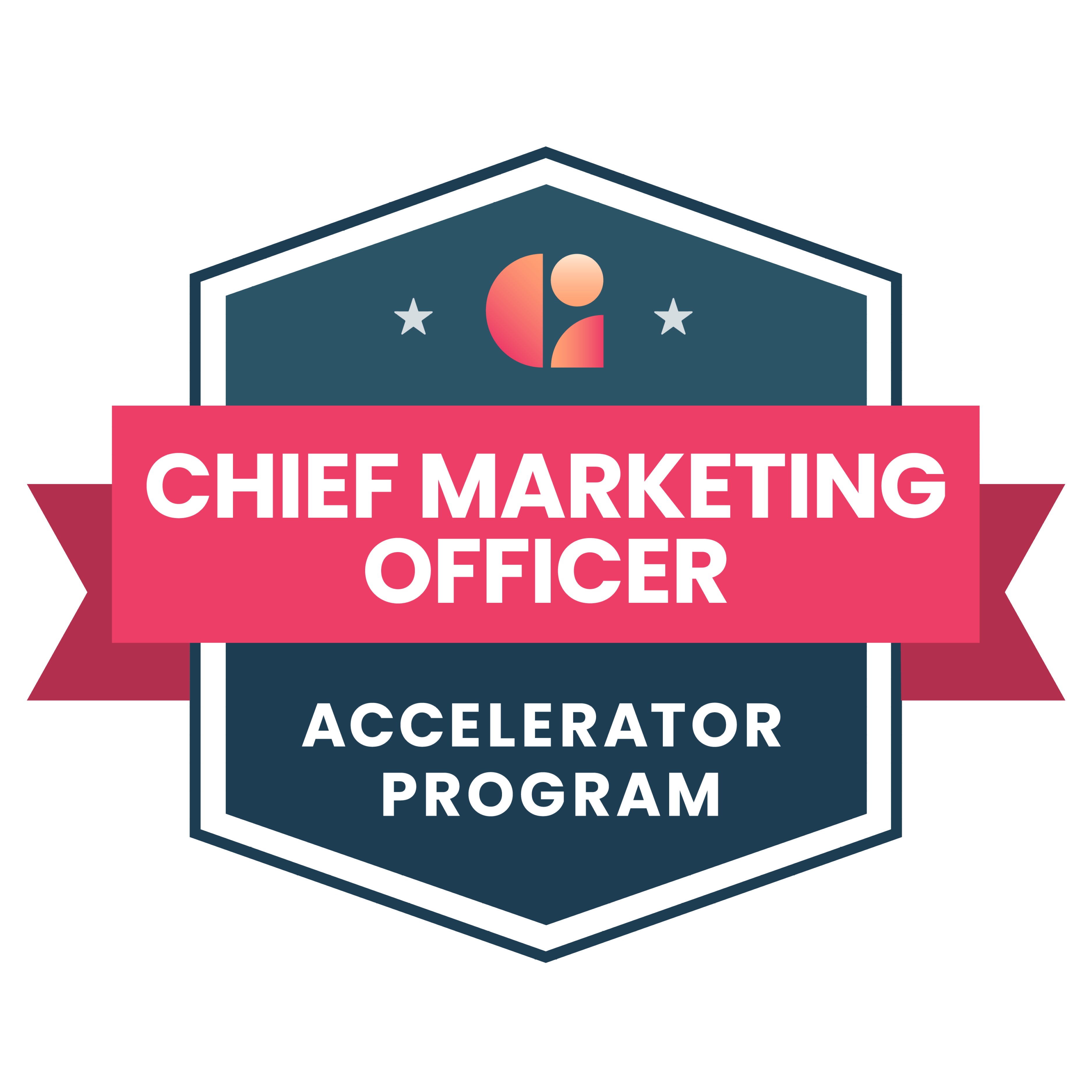 Leadership

Through facilitated discussion and reflection, you and your cohort will strengthen their leadership skills.




Revenue generation

You will leave this week understanding industry-leading practices in revenue generation.





The storytelling CMO

You will come away from this week with insight into their own aptitude for creativity. Branding, messaging and positioning will all take centre stage.




The product CMO

Week 4 will leave you as competent product professionals understanding how you can shape each product's journey.




The analytic CMO

You will come away from this module with a greater sense of the data used by other organizations to measure their effectiveness.



Team management

Focusing on effective management practices, from recruitment through to retention, this week will set you up to be the best managers possible.

FAQ
Q. Who's this program for?
A. Anyone who is looking to become a CMO in the near future, has become a CMO recently, or is looking to refresh their approach will find benefits in this course.

While much of the content is aimed at those looking to move into a CMO role soon, or just started one, you'll find plenty of insights and advice to elevate your approach to the CMO role, no matter your experience. This program is very much geared towards CEOs working in start-up/scale-up spaces.

Q. Will I get recordings of the live presentations?
A. Absolutely! Every presentation, along with its accompanying slide deck, will be uploaded to your dashboard, giving you access for as long as you need it. Tutorials, due to the nature of the discussion, cannot be recorded satisfactorily.


Q. What price is this program?
A. $2,999

Q: What time will the live sessions take place?
A: The live sessions will take place every second Monday and Thursday during the program at 9am PST | 12pm ET | 5pm GMT (London Time).

Q: How long will the program take to complete?
A: 12 weeks, with the course taking place every second week. After that, the presentations, coursework, exams, etc., will come to an end, however, you'll have access to all the materials to learn from for life. The alumni channel will be an eternal resource too, to stay in touch with and learn from your fellowship program peers.